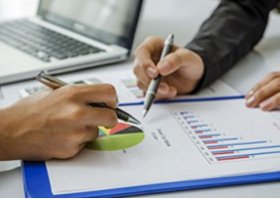 AFTER A MERGER TURNING AROUND A DYSFUNCTIONAL R&D TEAM TO CREATE A SIGNIFICANT RESULT IN PROFIT
The newly created leadership team of Research and Development was dysfunctional, and, consequently, not performing in either area. There were numerous relationship conflicts and the team couldn't agree on how to proceed with new product development and testing. The conflict situation was exacerbated by the fact that the German scientists (all members of this team were Ph D's and some were, in addition, qualified MD's and all were men) were operating under a Swiss manager.
In this instance, an intensive, individual coaching program was introduced to the group. This was followed by a team development workshop. The coaching program introduced the thinking differences among team members, thanks to the Herrmann Brain Dominance Inventory, so that individuals could understand that perceptions differ, depending on thinking styles. Communication and decision-making were also affected so that people began to see that others were not being difficult by design, but saw the world through different lenses. In addition, each scientist worked on developing their emotional intelligence and how their behavior impacted others in the team. This was reinforced with basic leadership practices (soft skills) such as giving and receiving feedback, keeping commitments, taking responsibility, and moving outside the comfort zone.
Once individuals were more capable of being members of a team and could listen and communicate respectfully with others, they came together for a team development workshop, where they worked on goals and strategies for the future.
After 2 years and for the first time in the company's history, the Diagnostics Division outperformed the Pharmaceutical Division.