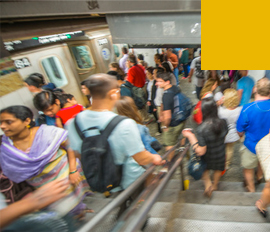 A Question of Culture and a Woman's Right to Paid Maternity Leave
"Vodafone Offers Equal Global Maternity Leave"
You may have missed this but Vodafone is offering all its female employees around the globe 16 weeks of paid maternity leave. Vodafone is a UK telecoms company, which is why the news went under the radar here in the US. The UK telecoms provider has 30 operating companies, world-wide.
In addition, it is offering new mothers full pay for working reduced 30 hour work weeks for the first 6 months upon return from maternity leave.
Whether or not this paid maternity is in addition to the statutory maternity leave is unclear. In many countries in Europe, law mandates paid maternity leave between 26 to 52 weeks a year. In contrast, there is no paid statutory leave in the US.
Earlier in the year I interviewed Purnima Mane, who is CEO of Pathfinder, International for the French American Chamber, (multi-cultural) Women in Business Network newsletter. One of the questions was, 'what were the kind of changes she would like to see regarding the employment of women in the US?'
Her response is below and as you read it, keep in mind this is a woman who has worked on several Continents in her career, has a Ph D in public health, and worked at executive levels in the United Nations in both Geneva and New York, prior to coming to Boston.
I would like to see benefits that enable women to take up employment of their choice and develop their careers without having to worry about how they will manage to combine careers with their families. I see many young couples struggling to raise a child in this country because there is very limited, quality childcare that's subsidized in some fashion so that they can afford it. Maternity leave is not a right in many places such that it will allow women [and men] to exercise their right to have a child and to leave temporarily if they wish and re-enter the workforce more easily. Hardly any part time employment opportunities with adequate benefits exist for women and men who wish to avail of them temporarily or permanently. I've grown up with these facilities and I have benefited from these in India. I find it shocking and disgraceful that it does not exist across the board in the U.S. Child care and flexible work arrangements are a must for men and women today along with maternity and paternity leave. Yes, it does bother me that there are less women at the top and that there are some jobs where there are more men than women but change is coming in even if gradually. On the other hand, I'm seeing much less change on policies which would have a wider impact on enhancing women's employment, on encouraging men to be involved fathers playing gender equitable roles, and on getting more women and men to want to encourage women's participation in the work force.
Does Culture Have Something to do With This?
When writing about culture here, I am referring to the descriptions of cultural differences based on the research of, principally, Fons Trompenaars and Geert Hofstede. Both from The Netherlands, their research outlined quite a few values, which separate one culture from another.
In the US we are principally a 'masculine' culture (Hofstede) and highly individualist (Hofstede and Trompenaars). The impact of these values drive behaviors which are associated with a high achievement orientation and competitiveness. It is no wonder that even Sheryl Sandberg described herself as a Type A Personality, who, during her maternity leaves worried someone else was going to step up to the plate and take her job unless she kept involved.
The contrast is to those cultures which are more 'feminine' (caring and nurturing, cooperative in orientation) and also collective. It seems that these cultures and countries provide their citizens with higher levels of social protection. Having paid maternity and even paternity leaves appears to be a better way to manage their societies.
A second point, which refers back to Vodafone's decision to offer all its female employees paid maternity leave, is that this was a business decision. A study commissioned with KPMG determined that even paying maternity leave would save the company $19 billion annually. Imagine, giving away money would actually save the company money!
Behind this decision was the fact that Vodafone was spending annually $47 billion to replace women that left the workforce after having a baby. It recognized that often women, talented and experienced at that, didn't return to their careers because they were forced to choose between maintaining careers and caring for their babies. The impact on Vodafone was also felt at the level of leadership. While women accounted for 35% of Vodafone's employees worldwide, only 21% made up the international senior leadership team.
What is important here is the bottom line basis of Vodafone's decision. This is related, or so we argue here, to the cultural context surrounding doing business in the UK.
Vodafone's decision regarding paid maternity leave might be considered self-serving. It is important, however, in the debate about legislating issues such as paid maternity leave and the minimum number of women on corporate boards. In countries with more masculine cultures and whose preference is more towards the individual than the collectivity, it may be more effective for companies themselves to assist women to break through the glass ceiling. Keeping women in the workplace because it makes economic sense to the company and designing policies which make that possible could be a better way to go in a country such as the US. Legislating social reforms may cause more backlash against women's movement up the professional and corporate ladders.
Reforming the social policies regarding maternity leave, childcare, paternity rights, impossible work hours and excessive business travel that hold up the current 'way things are done around here' and guarantee male dominance, would liberalize structures and processes which force women to choose between babies and careers. Sandberg's advice for women to 'lean in' and demand a place at the table won't work where those systems and structures prevent the active participation of talented women.
Before we assertively demand legislation to advance the cause of women in boardrooms, let us consider the cultural context which surrounds such practices and decide if legislation makes the most sense, or not.